A member of HANGZHOU ZHONGBAO IMP & EXP CORP.,LTD SINCE 1963
An ISO9001:2008 company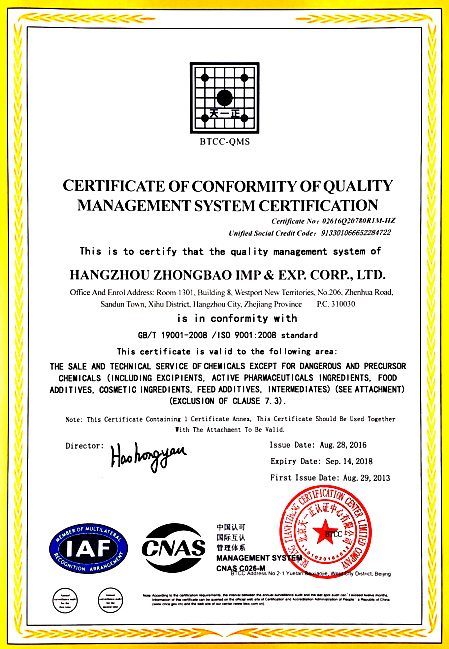 Zhongbao Chemicals Co.,Limited (ZBChem) is one of the world's specialty chemical companies-including manufacturing facilities, research laboratories, sales and technical service office.
ZBChem is the biggest China Excipients Producer to supply high quality specialty coatings to the Pharmaceutical ,nutraceutical and various other line.
ZBChem is experienced Cosmetics Producer and API'S ,Food supplier.
ZBChem products are related to Pharmaceutical , Cosmetics,Food.
ZBChem Products are assured consistent Quality and Global Grades (EP, JP, USP, BP and FCC/NF)
ZBChem Products Features :
Kosher
Allergen Free
GMO-FREE
Plant origin
Pre-REACH registration
FDA,EDQM Approved with GMP/CEP certificate and DMF Number.